African voices need to be heard
The African continent is rich and diverse in culture, nature and natural resources. In addition, it has a fast growing young population. This combination means there lie endless possilities. Already in a previous article it was emphasized that young Africans cannot wait to be working on a bright future for their respective countries. It is essential that such voices are being heard! For many years we have been organising the Afrikadag, of which the main aim was to include such voices the Dutch civil discussion on European-African cooperation.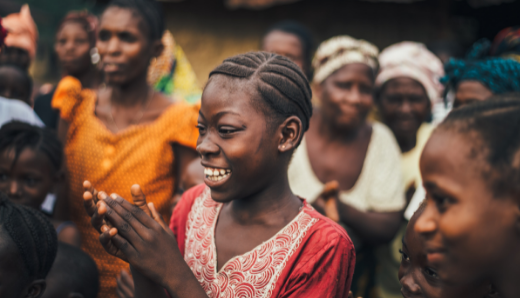 Photo: Unsplash
When it comes to international policymaking, it is essential that a diverse set of perspectives is considered. Only when you are sure what is needed, can you effectively and successfully get to work. However, more than often this fails to be the case and the potential of Africa is not acknowledged.
A painful reality
Beginning of this month, on the 5th of February, the 35th edition of the Ordinary Session of the AU Assembly was held. During this event the Ethiopian prime minister Abiy Ahmed stepped up: […] this is the right moment to reform and revitalize the system of the United Nation, so that it reflects the realities of our current global order and becomes more representative and a fairer institution at that.
This message at the assembly confronted us with a painful reality; too often African voices are not being heard and are not represented in global civil discussions and organisations. Not only in politics this is the case, as the recent struggles the pandemic illustrated bluntly, but also in terms of; science, arts, culture and with combatting climate change.
The Covid-19 pandemic and worldwide distribution of vaccinations were a prime example of the existent inequalities in cooperation and the lack of representation of Africa. During the EU-Africa summit on the 17th and 18th of February of 2022, the African Union called upon European leaders to release the intellectual property rights on Covid-19 vaccinations, so that large-scale production would become a possibility in African countries. The EU straightforwardly refused. The consequence is that African countries remain reliant on, thus far not always fulfilled, donations of vaccinations from the West.
Similarly, it became evident from the climate study of the FMS that the African continent will endure the consequences of climate change disproportionally. Furthermore, with internationally agreed policies concerning climate change mitigation the focus is mostly on lower-middle income countries, whilst African countries are classified as lower income countries. Small scale and bottom-up organisations from lower income countries often have the potential to initiate considerable change due to their embedding and involvement in the region. This point was considered recently at the Africaweek; a variety of panellists pointed out that in order to accomplish green innovation, one must realise that African organisations can be part of the solution. Additionally, we need to abandon the system of borrowing used to finance climate mitigation. African countries that are already financially unstable are being pushed into further debt. Here a transition is also essential.
These two global crises show us that African voices are structurally disregarded by other actors. The potential of civil society organisations from Africa fails to be recognized too.
Afrikdag serves as a platform
The aim of the Afrikadag is to provide the opportunity for African voices to be heard, just like it has been in previous editions. We cooperate with many African organisations or other establishments focussed on the African continent. However, most importantly, the enthusiastic African diaspora is put at centre stage during the Afrikadag. All of our friends, partners and contacts offer a wide variety of workshops, whereby interesting stories will be shared and the focus will be on interaction with attendants.
Many social issues will be raised during these workshops for conversation to develop. What is the current status quo of African-EU relations? What social struggles are existent in African countries? What link between religion and peace? What has been de impact of the ongoing pandemic on Africa? The wide variety of topics make for a compelling experience for everyone. Much attention is given to African art and culture too. Visitors of the Afrikadag will be able to enjoy African food, African music and a variety of special films.
You can be there too at this diverse event! On 13 April the ticket sale will start on afrikadag.nl, where we will keep you informed of all the developments with regards to the Afrikadag. Save the date and hopefully we see each other on Saturday 28 May!