Ashish J. Thakkar at the Africaday!
On Saturday the 5th of November, we will welcome Ashish J. Thakkar – refugee, school dropout, entrepreneur, philanthropist, future astronaut, fourth generation African and founder of the Mara Group and Mara Foundation, according to himself – at the Africaday. Besides all this, he is also author of the book "The Lion Awakes: Adventures in Africa's Economic Miracle". In his book, he shows us that Africa is a continent undergoing a remarkable transformation and great economic development. The Mara Group itself is active in 22 countries across Africa. Therefore, he will not only speak about the main theme of the Africaday this year, the relationship between Europe and Africa, but he will also tell us more on "Africa on the rise". Europe should see more opportunities and possibilities in Africa, there must be a partnership rather than an aid relationship, according to him.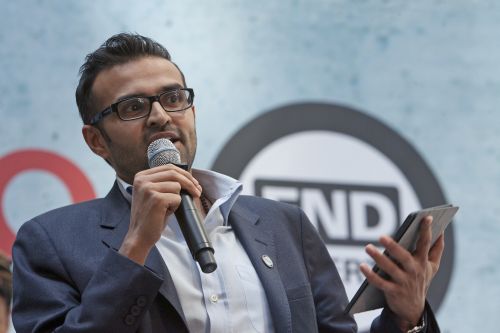 From school dropout to CEO
Thakkar was born in Leicester in 1981. His ancestors moved from India to Uganda, but after the forced relocation of all Asians in the country, they fled to England. In 1993, Thakkar returned to Africa with his parents and sister, where they rebuild their lives in Rwanda. However, when the genocide broke out nine months later, they were forced to flee again. Eventually, the Thakkar family returned back to Uganda as refugees. Thakkar went to school, but at the age of fifteen he decided to drop out to start his own IT company. Every week, he went to Dubai and imported computer parts to sell in Africa. Nowadays, the Mara Group is spread across Africa, and is, besides technology, also engaged in real estate and banking services.
Thakkar at the Africaday
As the founder of the Mara Group, Thakkar will give us inspiring examples on opportunities in Africa. He shows that it is possible for an African refugee to start a business and generate work in 22 countries across Africa. Saturday the 5th of November, is a unique opportunity to hear more about Thakkar's view on Africa. On the 3rd of October, the programme for the Africaday will be published. Be sure to sign up for this opening to get the chance to meet this inspiring man!