Programme Africaday 2016 complete. Order your tickets now!
On Saturday the 5th of November it is time for the Africaday 2016: the event on Africa and international cooperation. On this day the topic of "Europe and Africa" will be discussed at the Royal Tropical Institute (KIT) in Amsterdam. Our African keynote speaker is the successful and inspiring entrepreneur Ashish J. Thakkar, founder and CEO of the Mara Group. Other guests include: Diederik Samsom, Amma Asante, Lola Sánchez Caldentey, Badi, Ayaan Abukar, Stientje van Veldhoven, Roelof van Laar, Eric Smaling, Rik Grashoff, Alberta Opoku, Judith Sargentini, Josh Maiyo, Alphonse Muambi, Vamba Sherif, Babah Tarawally, Ton Dietz and many others!
On the programme…
Many topics will be highlighted in the more than forty workshops, debates, lectures, interviews, presentations, quizzes and documentaries of the Africaday. Diederik Samsom will enter a debate with you on refugees. There are workshops on women empowerment, the African diaspora in the Netherlands, migration, climate, the legacy of Obama's Presidency on Africa and many more topics. Journalist Ralf Bodelier talks about (good) news from Africa, African Students United (ASU) organises a college tour with Amma Asante, Member of Parliament for the PvdA, and at 'Afrikadag Talks' you will meet several writers, including SSuuna Golooba (Surprising Europe).
Cultural programme
New is our exciting cultural program in the 'Grote Zaal'. This Africaday, Yangambi organises a special edition of the iAfrica Festival. The whole afternoon, there is live music from, among other, Thaïs Diarra and Badi, there are interviews about music, art and more. Several authors with African roots will also enter the stage and we will screen the Ethiopian film "Lamb".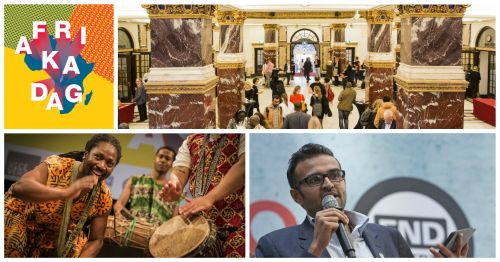 "Africa at Night"
Of course, the Africaday is not complete without the afterparty "Africa at Night". This year, Project Nana will organise the fifth edition of this great afterparty. This special edition is one you don't want to miss out on. Besides live gigs and crazy beats, there is a delicious African meal from The Ostrich waiting for you. Be sure to finish your Africaday in style with "Africa at Night" at Desmet Studio's!
Don't wait and buy your ticket now at www.afrikadag.nl/english/programma for the Africaday and "Africa at Night"!
Africaday 2016 is organised by Foundation Max van der Stoel (FMS) and Foundation for European Progressive Studies (FEPS) and sponsored by Party of European Socialists (PES), Royal Tropical Institute (KIT), Shell, FMO, Ready for Change, Partos and media partner Vice Versa.