Afterparty "Africa at Night"
On the 12th of March the ticket sale for the afterparty starts. Do you only want to buy a ticket for the afterparty? Then choose option 5!
The Afrikadag will be followed by the swinging afterparty "Africa at Night", starting at six o'clock. You can finish the Afrikadag in style, with live music, dance, art and African food. For €10,- you will have a delicious African dinner! "Africa at Night" is organised in collaboration with Christian Nana from Project Nana. In recent years, artist like Typhoon, Akwasi, Zwart Licht and Ntjam Rosie performed at the afterparty. So come to this great afterparty, to relax after a long, inspiring day full of discussions and workshops, without losing the African vibe!
Both the location and the different acts and artists of this year will be announced soon. Do not miss out and keep an eye on the Afrikadag Facebook event and the website!
Curious about the afterparty or want to relive the afterparty? Check out the aftermovie of "Africa at Night" 2015, read more about the past editions below, and get ready!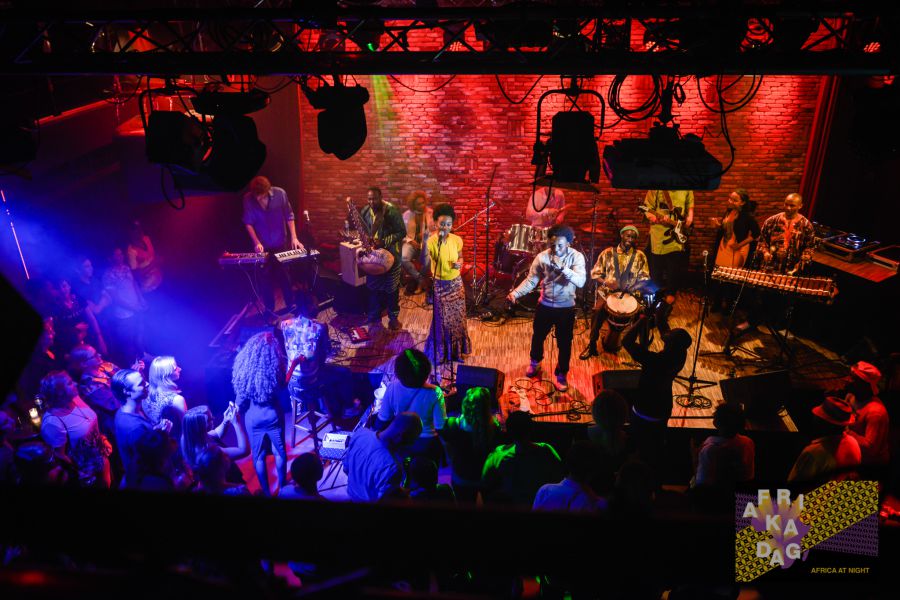 Date: 14 april 2018
Location: Amsterdam, will be announced soon!
Price: € 12,50
Tickets: (starts on 12 March) via www.afrikadag.nl/english/inschrijven
---
Look back at "Africa at Night" 2016 and 2015
In 2016 the Ghanaian reggae singer/songwriter Black Prophet was the headliner of the afterparty! His music is a mixture of African traditional percussion blended with elements of Jamaican reggae and a hint of rock. Black Prophet has played in over 30 countries; therefore, we were very delighted that he performed at "Africa at Night"! DJ's Marcio Gomes and AJ Da Costa spinned their best records at "Africa at Night". It was beyond a doubt, that they got everyone dancing! The talented Kenyan artist Emma Kavuma, gave a live art performance on stage. Some even went home with his work of art! Beside this, DERRIF DANCECREW provided a dance act. The evening was hosted by the Ethiopian stand-up comedian Mo Hersi.
In 2015, DJ Dynamite spinned his best records while the visitors of the afterparty dropped in and enjoyed the African food. After the African dinner, Badi, a Belgian artist with Congolese roots, took place on the stage with his French hiphop with an African vibe. In between the live performances, DJ's Dynamite and Badguyz kept everyone dancing with their swinging music. With his catchy Afropop, headliner Amartey conquered the hearts of the audience. There was also plenty of entertainment in the central hall of Q-Factory, where visitors themselves were decorated with beautiful paintings, and where unique African art was shownof this great evening!