African food at the Africaday
An event like the Africaday is not complete without good food! Each year the Africaday offers a wide range of workshops that are not only very interesting but also quite intense. And what about all the impressions gained during a round at the Africaday market or taking part in the pub quiz? Good food is important!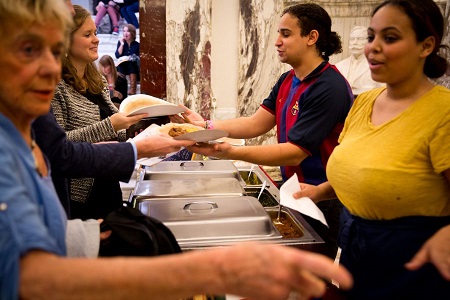 At lunch time, between 12.30 and 13.30, We offer two delicious African specialties served by restaurant Kilimanjaro. There is a choice between a Kenyan rice dish or an Ethiopian Injera. Kenyan rice dish is the 'kuku wa kupaka': rice with chicken in a cilantro and pepper sauce. For vegetarians there is a tasty curry with a coconut vegetable sauce. Or rather fancy the Ethiopian Injera? This pancake-like bread is also used as cutlery, tearing off small pieces to eat various vegetables (vegetarians and vegans) and meat. There is also a lunch box for those who fancy a (Dutch) sandwich.
For lunch, for one of the African options or the lunch box with sandwiches, you pay € 10, -. To be sure of a lunch, it is necessary to order it while buying a ticket for the Africaday via www.afrikadag.nl/inschrijven. Just order a lunch, after you've already purchased a ticket is not possible. On the day itself you can still buy one of the two African lunch options. Please bring cash, because pin is not possible at KIT.