Meet our partners! Part three
Here we put our partners that make the Africaday possible into the spotlight. Today, it's all about FMO!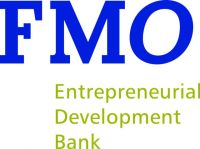 About FMO
FMO is the Dutch development bank. FMO has invested in the private sector in developing countries and emerging markets for more than 46 years. Our mission is to empower entrepreneurs to build a better world. We invest in sectors where we believe our contribution can have the highest long-term impact: financial institutions, energy and agribusiness. Alongside partners, we invest in the infrastructure, manufacturing and services sectors. With an investment portfolio of EUR 9.2 billion spanning over 85 countries, FMO is one of the larger bilateral private sector development banks globally.
70 per cent of the poor are women. Women control US$20 trillion in consumer spending worldwide. Women are more loyal customers. Women are better borrowers and savers. Empowerment of women and girls is the fifth SDG. We will present what it takes to increase gender equality, why it is an interesting business opportunity to invest in women, and how we contribute to SDG 5. We will also discuss what you can do to contribute. As the Dutch Development Bank, FMO focuses on renewable energy, agribusiness and financial institutions. Gender equality is an important strategic topic for FMO. Consequently, we aim to enable financial institutions to finance female entrepreneurs and women-owned SMEs, and to support these women on the non-financial side by training them, and providing them with necessary access to networks and role models. We work on our gender financing strategy together with a network of partners such as the Global Banking Alliance for Women, Goldman Sachs, IFC and others.