Save the date: Afrikadag 2019, 13th of April @ KIT Amsterdam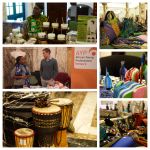 We have started to prepare for the annual Afrikadag! This year's main theme will be migration. We have a great line-up of interesting speakers (more info will follow!) and we trust that it will be an amazing edition. Like every year there will be a cultural programme as well as many different debates, workshops and lectures.
The theme of this year will be migration. What are the political alternatives for the current Dutch and European commitment to close the borders? And where is the voice of the young African travelling to Europe while endangering his/her own life? What does the life of migrants in the Netherlands look like, considering their positive contribution to our society?
We would love for you to be there this edition! Ticket sale will start on the 1st of March.
Would you like to contribute to this day through your organisation, by hosting a workshop or a stand? Please contact us before the 31st of January via: info@afrikadag.nl.